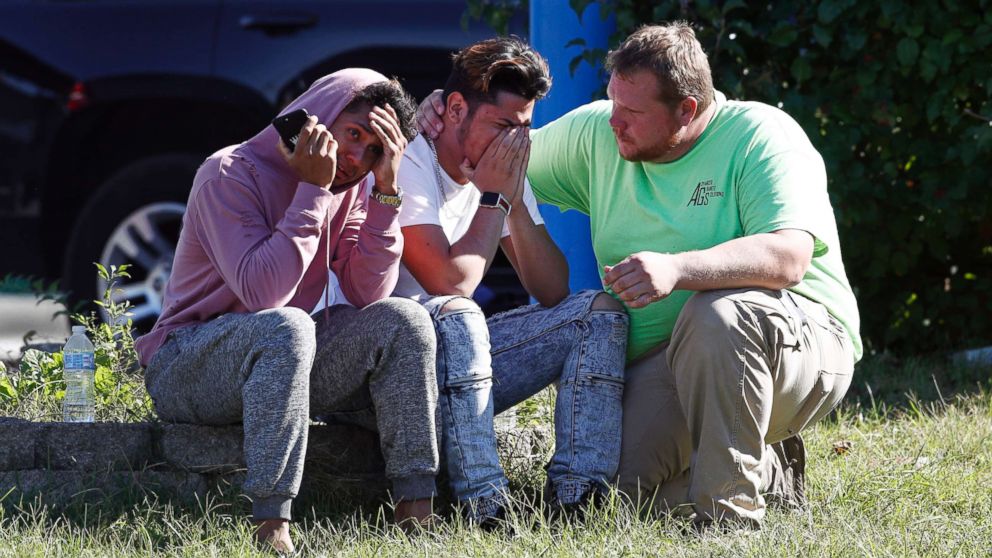 A man suspected of killing three co-workers today in Maryland has been captured in Delaware, officials said.
Radee Labeeb Prince, 37, allegedly shot five people, killing three, at the Advanced Granite Solutions office in Edgewood, Maryland, Wednesday morning.
Prince was caught Wednesday evening after a short foot chase in Newark, Delaware, after authorities received a tip that he had been seen in a neighborhood, a law enforcement source told ABC News. State and local law enforcement officers, as well as federal agents, descended on the neighborhood, fanning out to look for Prince, the source said.
Three ATF agents spotted Prince on foot near the Four Seasons Parkway in Newark as he was smoking a cigar. When the agents approached him, he ran and dropped a gun, the source said. Prince was then quickly apprehended without incident, and authorities recovered the weapon.
Authorities would not have been able to apprehend Prince without efforts from the media and multiple law enforcement agencies as well as tips from civilians, Wilmington Police Chief Robert Tracy said at a press conference Wednesday night. Prince is currently being processed into jail, Tracy said.
On Wednesday morning, Prince entered the Edgewood facility — where he was an employee — just before 9 a.m., according to Harford County Sheriff Jeffrey Gahler. Police were on the scene within six minutes of being notified, authorities said.
A single handgun was used in the attack, police said. The identities of the victims have not yet been released.
Officials said Prince fled the scene in a 2008 black GMC Acadia with Delaware license plates.
"There's an individual out there on the loose who committed one of the most heinous acts we've ever seen in our county," Gahler told reporters after the shooting. He confirmed that Prince has a criminal history and said he remained "armed and dangerous."
Prince was also wanted in connection to a separate shooting in Wilmington, Delaware, Gahler said. The shooting was targeted, and Prince allegedly "had beefs" with the victim he shot there, Tracy said at an earlier press conference Wednesday.
Wilmington Police said they received the first report of a shooting less than two hours after the shooting in Maryland. A person was shot twice — once near his head and once on his body — and is expected to survive, Tracy said.
After the shooting in Wilmington, officers spotted Prince's car, but they lost sight of the vehicle during a brief chase as it was heading north. His car was later found in Newcastle County, Delaware, Wednesday afternoon near a high school, police said. Authorities had received a tip that Prince was seen leaving his vehicle and walking toward the high school, Tracy said.
Prince has a long criminal history, with 15 felony convictions and four misdemeanor convictions in Delaware, Tracy said.
In March 2015, Prince was charged in Cecil County with firearm possession with felony conviction as well as three related misdemeanors: possession of a firearm, illegal possession of ammunition and having a handgun in a vehicle, according to court records. It is unclear why the case ended without prosecution three months later.
In February of this year, a man named Philip Siason filed a petition for a peace order against Prince, court documents show. In his account of why he was filing, Siason said that Prince was an employee of his at JPS Marble & Granite in Forest Hill, Maryland, and that he fired Prince for "punching another employee in the face."
"He came back to our business justifying what he did was right because the other guy was saying things he did not like," Siason said in the documents.
Siason said Prince later tried to collect unemployment benefits from the company, but the company told the unemployment agency that Prince was already working for another company. On Feb. 27, Prince "cursed and yelled" at Siason about the unemployment benefits, Siason wrote in the filing.
"I felt very threatened because he is a big guy [and] very aggressive on me," Siason said, adding that while Prince did not injure him, he did "not want to wait."
The order was denied because the court said there was no statutory basis for relief and that Siason could not meet the required burden of proof.
Gahler said Prince targeted the Maryland home improvement business where he was an employee.
"We know he worked here," Gahler said. "He was scheduled to be at work today."
He added, "We think it ties into the relationship here at work. I do believe he's targeting for a specific reason and not general."
Advanced Granite Solutions' owner Barak Caba said in an interview with The Associated Press that Prince worked at the company as a machine operator for four months.
Kevin Doyle, 47, told ABC News he was standing next to his work truck in a parking lot next to Advanced Granite Solutions when he saw three employees running out the back of the building with a "look of terror" on their faces.
Two of the Maryland shooting victims were transported to University of Maryland Medical Center and remain in serious condition, Gahler confirmed.
"Everyone shot is in serious condition," he said.
The Harford County Sheriff's Office tweeted a photo of Prince while he was still on the lam.
Prince is believed to have acted alone.
"We do not believe anybody else is connected to the shooting," Gahler said.
The Harford County Sheriff's Office is working with the FBI to investigate the shooting. An FBI official told ABC News that the agency is treating the shooting as "workplace violence" and there are no indications of terrorism at this time.
Edgewood is about a 40-minute drive north of Baltimore and a short distance from the crime scene in Wilmington.
ABC News' Morgan Winsor, Lucien Bruggeman, Mike Levine, Dee Carden and James Hill contributed to this report.